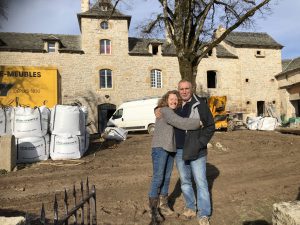 You will soon hear talk in the media of an extraordinary area in Aveyron near Bozouls. A magical place to organize weddings and great festivals in Aveyron. This is the castle of Majorac!
Didier was a luxury landscape designer in Paris. He had a project: find in "the world of silence", far from Paris, a special place to create a bed and breakfast.
Following the sale of his company of 35 staff, Didier activates his research and visits more than 150 properties in the southwest and west of France. He submit an offer to our agency for a completely renovated domain in the area of Peyrusse-le-Roc in Aveyron. This property had already been sold by us in 2013, renovated, and then chosen "Favourite House of the French People" on the program of Stéphane Bern on France 2 in 2016. His offer is not accepted.
Then we take the mandate to sell Domaine of Majorac! Initially the estate was owned by an ambassador, a great servant of the state, and Jews and resistance fighters were hidden there during the war.
Didier come to visit on the 21st of April, 2016. He does not know it yet but it will become an anniversary date. Before the visit, we share a breakfast at the famous restaurant nearby, the "Belvedere". On the menu: oysters, breads, sausages, and other unusual dishes for this time of the day.
He falls in love with this typical Aveyron house and its view of the forest of Palanges, and the mountains of Aubrac. This landscape designer to the stars is charmed by the terraced terrain lined with dry stone walls. An offer is quickly formulated and accepted and the final sale is signed in September 2016.
The property retains all its original elements and charm. The roof of the main house has been redone, and a new boiler has been installed. Didier decide to turn the place into bed and breakfast. Slowly, ideas fuse, the project germinates and grows.
Majorac will become 5 star cottages. The heating will be geothermal with a drilling of 100 meters, and all the roofs will be redone representing more than 3000 hours of work. The outbuildings will be converted into a reception room with a new extension of 250 square meters to accommodate more than 150 people. A car park will be created for 80 cars generating more than 1000m3 of embankments reused by Didier in his landscaped garden. An infinity pool measuring 5 by 19 meters will be installed with "of course" its pool house. In total, more than 1400 m2 habitable space will be fully renovated or constructed, meeting ERP standards.
Since November 2016 all the tradespeople have been busy. Mouysset from Bozouls for the frame, Vayssettes, blacksmith in St Chely d'Aubrac, Taquier, local roofer, Charrier carpenter in Espalion, and many others.
Didier has lived permanently on site since day one. He help with the work and prepare food for the teams. He could have been basking on beaches in the sun, but this passionate have preferred to invest his savings, the fruit of 35 years of hard work, to revive Majorac.
Listening to him talk about it, it is not a construction site, but a labour of love. Creating a place with beautiful materials, with an irreproachable finish, but above all a beautiful and reassuring place that highlights the amazing views. A place of silence and healing. A simple place, true and touching.
The first event is scheduled for the end of summer 2019. The teams redouble their hard work to meet the deadline. The challenge is launched. Will the work be completed on time? How many adventures are still waiting for them before then? We will be pleased to tell you the rest of this enormous project on the occasion of the release of our next brochure.